Curried Stone Crab Claws with Hot Marmalade Dip: A Guide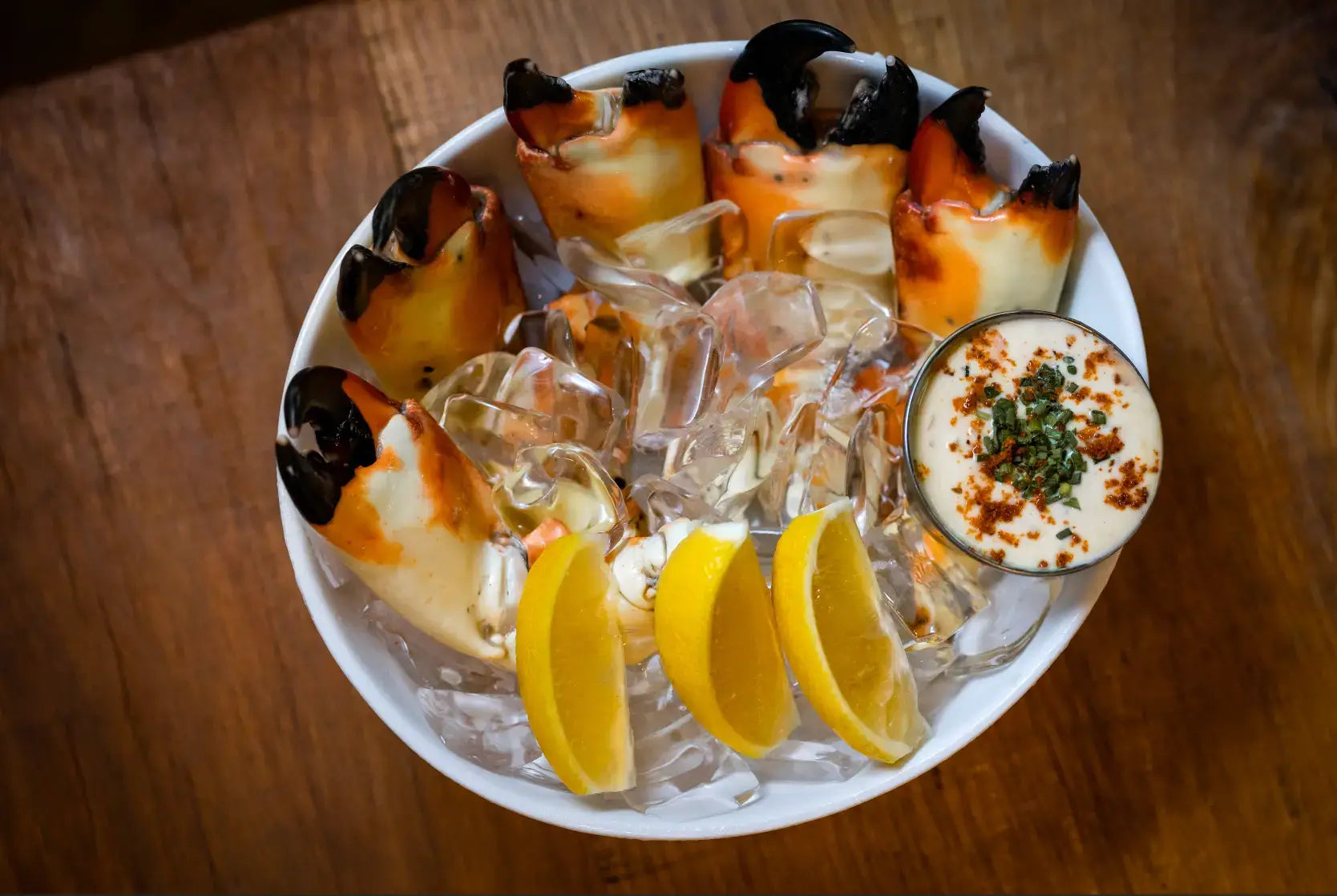 Can fresh stone crabs get any better? Yes. Curry powder and seasonings just entered the chat. 
 
It is no secret that Florida stone crabs are a delicious delicacy. Florida's crab market reached $30 million in 2020, which demonstrates the increasing demand for fresh stone crabs. 
 
Stone crab is not only scrumptious, but it is a versatile ingredient that can be added to plenty of dishes. 
 
Have you ever tried curried stone crab claws? If the answer is no, keep reading. It looks like we just helped you decide what's for dinner tonight. 
Why Add Curry to Stone Crab?
Curry powder is a blend of Indian spices that comes from East Indian cuisine. It typically is consists of: 
Turmeric

 

Coriander seeds

 

Cumin seeds

 

Dried chilies

 

Black pepper

 
Curry leaves

 

Cinnamon

 

Cardamom

 

Cloves

 

Nutmeg

 
Bay leaves

 

Mustard seeds

 

Fenugreek seeds

 
The wide range of spices and herbs in curry powder gives it a powerful flavor. When paired with fresh stone crab, the taste is out-of-this-world. 
Benefits of Curry Seasoning

Curry seasoning pairs well with crab meat because it complements the crab's, natural sweetness. The flavors balance each other to create a smooth dish that will leave you looking for seconds (and thirds). 
 
In addition to packing a flavorful punch, curry powder is jam-packed with nutrients. 
 
Turmeric, the star ingredient in curry powder, is a robust herb used in Ayurvedic medicine. It naturally decreases inflammation, with some experts believing it is effective as ibuprofen. 
 
Curry powder also contains curcumin, which may help prevent breast, skin, prostate, and colon cancer. Its powerful antioxidants can stop degenerative disorders like Alzheimer's and Parkinson's from developing. 
 
Research shows that curcumin may have the power to kill off existing cancer cells. This theory explains why certain cancers are less prevalent in countries where people eat high amounts of curcumin. 
How to Make Curried Stone Crab Claws
Are you ready to whip up some delicious curried stone crab? If so, you will need:
3 pounds Florida stone crab claws

 

1/2 cup butter

 

1 teaspoon curry powder

 
When choosing your curry powder, we recommend a mild seasoning. Indian spices do not mess around, and hot curry powder will definitely increase your dish's heat. A mild powder will deliver strong flavors without overpowering the taste of the crab. 
 
Start by rinsing the crabs thoroughly. Remove the crab's shell and moveable pincer from the meat. Leave the crab meat attached to the remaining pincer. Set the crab claws to the side. 
 
Use a large sauté pan to melt the butter on medium heat. Once melted, add the teaspoon of curry powder. Mix gently. 
 
Grab the stone crab claws. Dip them into the curry butter and let the claws simmer for two to three minutes on medium heat. Make sure all sides of the claw are coated in the curry butter. 
Add a Marmalade Dip
Take your stone crab curry to the next level by adding a marmalade dipping sauce. 
What is marmalade? Like jam, marmalade comes from cooking fruits to a pulp to create a thick and tangy spread. But while jams and jelly flavors vary, marmalade always uses oranges. 
When it comes to pairing crab claws, a home-made marmalade dip is just what the doctor ordered. The light and tangy sauce pairs beautifully with the sweet crab and zesty curry butter, creating a truly mouth-watering dish. 
To create the perfect marmalade dip, you will need: 
1/3 cup orange marmalade

 

1/4 cup soy sauce

 

1/4 cup fresh lime juice

 

1 garlic clove, minced

 

1 teaspoon cornstarch

 
Mix all of the ingredients and pour them into a medium-sized saucepan. Simmer over medium heat, stirring constantly. Continue mixing until the sauce is thick and clear. 
Reduce the heat to low and place a lid over the sauce to keep the marmalade warm. Serve as a dip with the curried crab claws. 
Make It a Meal: What to Pair With Your Curried Stone Crab Claws
Before you sit down to devour your fresh Florida stone crab, enjoy a libation with your meal.  
White wines pair nicely with seafood curries. White wines have bright flavors, light acidity, and citrus notes that complement the crab and the marmalade dipping sauce. Pour a chilled glass of off-dry Riesling or Pinot Grigio to sip with your curried crab claws. 
Red wines are too bold to complement this dish. The strong acidity clashes with the curry and overpowers the subtle sweetness of the crab and marmalade. If you must drink red wine, go with a soft Pinot Noir. 
If wine is not your preference, light beers pair well with seafood. Blonde ales are a top choice because they do not overwhelm the crab. IPAs are too robust and pair better with fried delicacies. 
Should you go with a cold pilsner or a lager with your curry crab claws? We say pilsner. Pilsners are lagers that have added hops (spices)—the extra spiciness pairs great with the zesty curry flavors without overpowering the sweetness of the crab. 
Not in the mood for a libation? No problem. Combine club soda with a splash of lime juice. The acidity of the lime pairs with the sweet crab flavor and matches nicely with the lime in the marmalade dipping sauce. 
Fresh Stone Crabs Delivered to Your Door
Curried stone crab claws are flavorful and delicious. Whether you are enjoying them with a cold beer or a chilled Pinot Grigio, we guarantee this is a new family-favorite recipe. 
Florida stone crab is so delectable that people come from all over the world to try a bite of fresh crabmeat. But the George Stone Crab team makes it our job to deliver stone crabs to wherever you are. 
Click here to order stone crabs online. Pick the crabs you want, and get them delivered to your door. Whether it's a home-cooked date night or a special event, let us bring you a taste of Florida. 
Featured in…