5 Delectable Sauces to Pair With Fresh Stone Crabs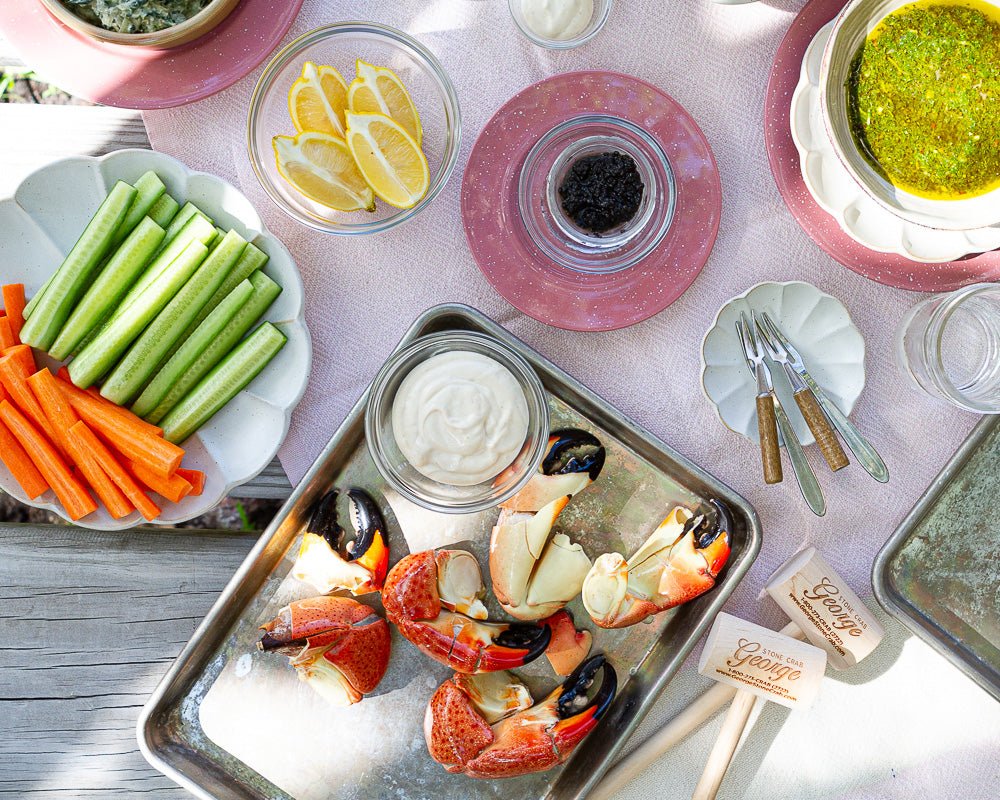 Florida is the best place to enjoy the freshest stone crab claws, responsible for 99% of the harvest in this $30 billion industry.

The meat from stone crab claws is like no other. It's unashamedly sweet and firm, with a flavor that hints at both lobster and shrimp.

Are you tempted to try this delicacy, but not sure what to pair with stone crab? Keep reading to discover the best sauces to help make your fresh stone crabs 'pop' on your palate.
1. Special Stone Crab Sauce
Mustard mixes always make the best sauces to go with stone crab. That's because this condiment suits the sweetness of the meat perfectly.
You can order our special mustard sauce, or try this version at home if you'd like a change from the usual that doesn't stray too far from tradition. 
Ingredients
1¼ Teaspoons of dry mustard
1/3 Cup of mayonnaise
2/3 Teaspoon of Worcestershire sauce
1 Pinch of salt
2/3 Teaspoon of lemon juice
2 Teaspoons of ketchup
2 Teaspoons of coconut cream or 1 teaspoon of whipping cream
You get coconut cream by refrigerating a can of full-fat coconut milk overnight, or freezing it for a few hours, and then scooping the thick layer off the top.
Method
Combine the ingredients and mix until smooth and creamy, and serve it in a ramekin as an accompaniment to your stone crabs. You'll get enough for two pounds of medium-sized claws from this recipe.
For an even more unusual sauce, you can use sour cream instead of coconut cream.
2. Spicy Marinara Sauce
Do you like a little heat with your crab meat? This zesty creation will have you reaching for more.
Marinara sauce hails from the south of Italy and gets its name from the sailors who would enjoy it with pasta after a long day at sea. This version adds a little extra kick to this simple tomato sauce and makes a great match for sweet stone crab.
Ingredients
1 Tablespoon of olive oil
2 Garlic cloves, peeled and chopped
5 Peeled tomatoes, chopped finely
1 Teaspoon of white sugar
¼ Cup of water
2 Teaspoons of fresh chopped basil
½ Teaspoon of chili flakes
Method
Heat the olive oil in a skillet and sauté the garlic until it's soft and golden. Add the chili flakes, sugar, tomatoes, basil, and water as well as salt and pepper to taste. Stir the ingredients until the sauce warms through.
Garlic and olive oil are among the reasons Mediterranean food stands out among the healthiest cuisines in the world. So, they're a perfect match for your fresh, nutritious stone crab claws.
3. Brandy Mayonnaise
Brandy adds a subtle, warming zing to this mayonnaise-based sauce. It's a delicious, understated sauce, that makes the stone crab the star of the show.
Ingredients
1 Cup of mayonnaise
3 Tablespoons of brandy
3 Tablespoons of ketchup
2 Tablespoons of sour cream
2 Teaspoons of Dijon mustard
Juice and zest of 1 lemon
Method
Combine all the ingredients in a bowl, add a sprinkling of salt and freshly ground black pepper. Stir the sauce until it's silky and smooth.
If you don't have any brandy handy, bourbon or sherry will do. Teetotalers can opt for white grape juice instead.
4. Ginger Scallion Dipping Sauce
This sauce adds a Chinese-style twist to your stone crab. It was originally designed for boiled shrimp, but it's just potent enough to mix well with stone crab, too.
Ginger scallion sauce has a flexible recipe. You can skip the ginger or scallion and still end up with an enjoyable sauce. You can use any kind of vinegar, too, like apple cider, rice vinegar, or Chinese black vinegar. 
Ingredients
1 Tablespoon of minced ginger
1 Tablespoon of minced scallion
1 Tablespoon of oil
2 Tablespoons of soy sauce
1 Tablespoon of water
½ Teaspoon of sugar
¼ Teaspoon of vinegar
Method
Combine the minced scallion and ginger in a small heat-proof bowl.
Heat the oil until it starts to smoke and then pour it over the ginger and scallion mix.
Add the Soy sauce, sugar, vinegar, and water and stir until the sugar dissolves.
Serve the sauce in a small bowl with your perfectly cooked stone crab claws.
5. Jalapeno Honey Sauce
If our spicy marinara sauce turns out a little tame for your tastes, this recipe will help you turn up the heat a little. Those who enjoy a little bite in their meals can opt for three jalapenos, but it's just as delicious with one or two peppers.
Here's how to add a little Southwestern tang to your stone crabs:
Ingredients
1 Tablespoon of butter
3 small jalapenos, seeded and diced
¼ Cup of rum
1 Cup of barbecue sauce
1 Teaspoon of cayenne pepper
¼ Cup of honey
1 Tablespoon of fresh, chopped cilantro to garnish
Method
Warm a saucepan and melt the butter.
Add the rum and jalapenos and cook the mixture over medium heat until it reduces by half.
Add the remaining ingredients.
Simmer for 20 minutes, stirring often.
You can serve this sauce hot or chilled in a bowl and garnish it with cilantro.
Other Great Accompaniments to Fresh Stone Crabs
On their own, stone crabs aren't very filling, but they're ideal as a starter to your meal, or as part of a seafood platter on a special occasion.
If you want to serve stone crab for a light lunch, they're best paired with a salad. The best ones are a simple green salad with vinaigrette dressing or an exotic green papaya salad or a heart of palm salad.
Pico de Gallo, lime wedges, and nacho chips also work well with stone crab claws. When served alongside a selection of grilled or roasted vegetables with butter sauce, stone crab makes for a filling meal. You can browse our Chef's Table for more fresh stone crab recipes and serving suggestions.
It's Time to Try Fresh Stone Crabs
Frozen seafood can never compare with the real thing. During freezing, ice crystals damage the structure of the meat, diminishing its taste and spoiling its texture.

When you buy stone crabs from us, you know you're getting freshly harvested stone crabs, prepared immediately to preserve their fine taste. So, go ahead, order now your fresh stone crabs and get cooking.
Featured in…